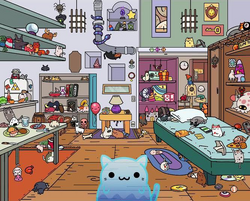 Room 1 is the first room that you gain access to in the game. It has 162 possible items and 100 cats to collect.
For the entire list of The Bedroom cats, click the link below:
Description of the Room
The room you start off with is very bare and only contains basic furniture. There is a large table to the left. Behind that is a kitchen counter with a fridge. There are 3 large shelves on the top left. There is a shelving unit built into the wall to the right of the fridge, with a sliding door. To the right of that is a small table, with more shelves built into the wall above it and what appears to be a ventilation pipe.
On the right side of the bedroom there is a wardrobe with shelves, and in front of that is a large bed. Behind the bed there are more shelves and a cat scratching post. There are wooden plaques dotted around the room for items to be attached to once they're collected. There are also 2 lights hanging from the ceiling.